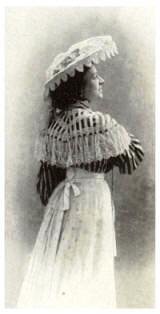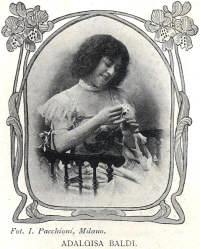 (Parma, 10 gen. 1879 - Milano, 23 mar. 1945)
Allieva di Salvatore Auteri Manzocchi al Conservatorio di Parma, iniziò la carriera con successo nel 1901 nella Traviata e nei Puritani in teatri di provincia (Palmanova, Cividale del Friuli, Lodi). Per la maggiore facilità di ottenere lavoro si dedicò all'operetta e divenne apprezzato soprano in questo genere. Nel lug. 1903, dopo gli spettacoli al Politeama Genovese, fu scritto della "dolcissima grazia" con cui interpretava le arie. Nel 1905 fu a Parma al Teatro Reinach in una delle compagnie di operette che facevano capo a Carlo Lombardo . Fece parte anche della famosa compagnia Città di Milano. Successivamente riprese la carriera lirica alternandola sempre a quella nell'operetta.
She studied at Conservatory of Parma with Salvatore Auteri Manzocchi and she made her debut in 1901 performing in Traviata and Puritani during a tour in the Houses of province. For the most greater facility to get an engagement she devoted her to the operetta and he became appreciated soprano in this kind. In the july of 1903, after a performance at the Politeama Genovese, it was written of the "sweet grace" with which she interpreted the air. In 1905 she was in Parma at the Politeama Reinach in one of the companies of operettas that were organized by Carlo Lombardo. She also performed in the company Città di Milano. Subsequently she resumed the lyric career always alternating it to that in the operetta.


CRONOLOGIA/CHRONOLOGY
| | | | |
| --- | --- | --- | --- |
| 1901 | | | |
| 03 | La Spezia | Politeama Duca di Genova | PAPA' MARTIN di A.Cagnoni |
| 10 | Palmanova | Teatro Gustavo Modena | PURITANI (Elvira) / TRAVIATA (Violetta) |
| 11 | Cividale | Teatro Ristori | TRAVIATA (Violetta) |
| | | | |
| 1902 | | | |
| 01 | Cremona | Teatro Ponchielli | BALLO IN MASCHERA (Oscar) |
| | | | |
| 1912 | | | |
| 07 | Milano | Teatro Stadium | FRA' DIAVOLO (Pamela) |
| | | | |
| 1924 | | | |
| 12 | Sanremo | Teatro Nuovo Centrale | DON PASQUALE (Norina) |
DISCOGRAFIA/DISCOGRAPHY
| | | |
| --- | --- | --- |
| | ODEON FONOTIPIA | |
| 7078 | MADAME FAVART: Couplè di Susanna | |
| 7084 | LA CICALA E LA FORMICA: Gavotta della cicala | |
| 7085 | BOCCACCIO: Sortita di Fiammetta | |